Profile

Wenn Ich Tanzen Will
Ich Gehöre Nur Mir
Free Account
Created on 2014-03-20 11:39:37 (#2228501), last updated 2014-03-20 (183 weeks ago)
1,282 comments received, 1 comment posted
586 Journal Entries, 236 Tags, 0 Memories, 15 Icons

About

Mini Bio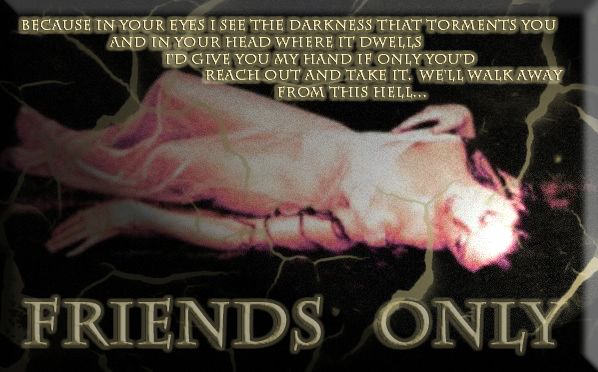 Created by MyFitnessPal - Nutrition Facts For Foods
These words herein are mine alone
Fashioned deep inside my bones.
Each picture thought and quote you see,
are all reflections of what is me.
Beware the urge to take this book
and read it in some private nook.
For you'll find it's magick isn't blind,
And I will know you've touched what's mine.
Bide the Wiccan Law ye must,
In perfect love, in perfect trust.
Eight words the Wiccan Rede fulfill:
An ye harm none, do as ye will.
And ever mind the Rule of Three:
What ye send out, comes back to thee.
Follow this with mind and heart,
And merry ye meet, and merry ye part.
What's broken can be mended... but even if you mend it,
You can still see the cracks, no matter how hairline they are...
They're like scars, permanent... they don't fade away.
What's worse is they serve as a reminder of what once was...
Bringing back bittersweet and painful memories...
"All that is gold does not glitter,
Not all those who wander are lost;
The old that is strong does not wither,
Deep roots are not reached by the frost.
From the ashes a fire shall be woken,
A light from the shadows shall spring;
Renewed shall be blade that was broken,
The crownless again shall be king." - J.R.R. Tolkien
Its sad when people you know
become people you knew.
When you can walk right past
Someone like they were never a
big part of your life.
How you used to be able to talk
for hours and now you can
barely even look at them...

Connect
acting
,
chopped
,
classical
,
classical literature
,
cooking
,
cosplay
,
dance moms
,
dancing
,
doctor who
,
drawing
,
fiction
, german showtunes,
hell's kitchen
,
iron chef america
,
kevin tarte
,
lost
,
master chef
,
mate kamaras
,
once upon a time
,
once upon a time in wonderland
,
painting
,
pilates
,
romance
,
sarah brightman
,
showtunes
,
singin' in the rain
,
singing
,
symphonic metal
,
wizard of oz
,
writing

People
[View Entries]

[livejournal.com]
angely78
,
barbayat
,
cdaae
,
crysania4
,
dracschick
,
dunkle-feuer
,
eriksangel15
,
erndawg08
,
lesmisloony
,
lisapt
,
many-faces
,
mcsangel3
,
naergilien
,
sabertompson
,
saharrose
,
seakittym
,
thechemelon
,
vellanya
,
victory-goddess

Communities
[View entries]

Feeds
[View Entries]

Subscriptions (0)

Linking
To link to this user, copy this code:
On Dreamwidth:
Elsewhere: